Explore the Great Outdoors
Hiking for all Levels ~ Epic Trails
Julian offers miles of breathtaking hiking trails. Get in touch with nature by exploring back-country San Diego.
Pacific Crest Trail/Eagle Rock
The Pacific Crest Trail from Mexico to Canada traverses the backcountry, including Laguna Mountains, Warner Springs and Anza-Borrego Desert State Park. Access to Eagle Rock is near Warner Springs fire station off Hwy. 79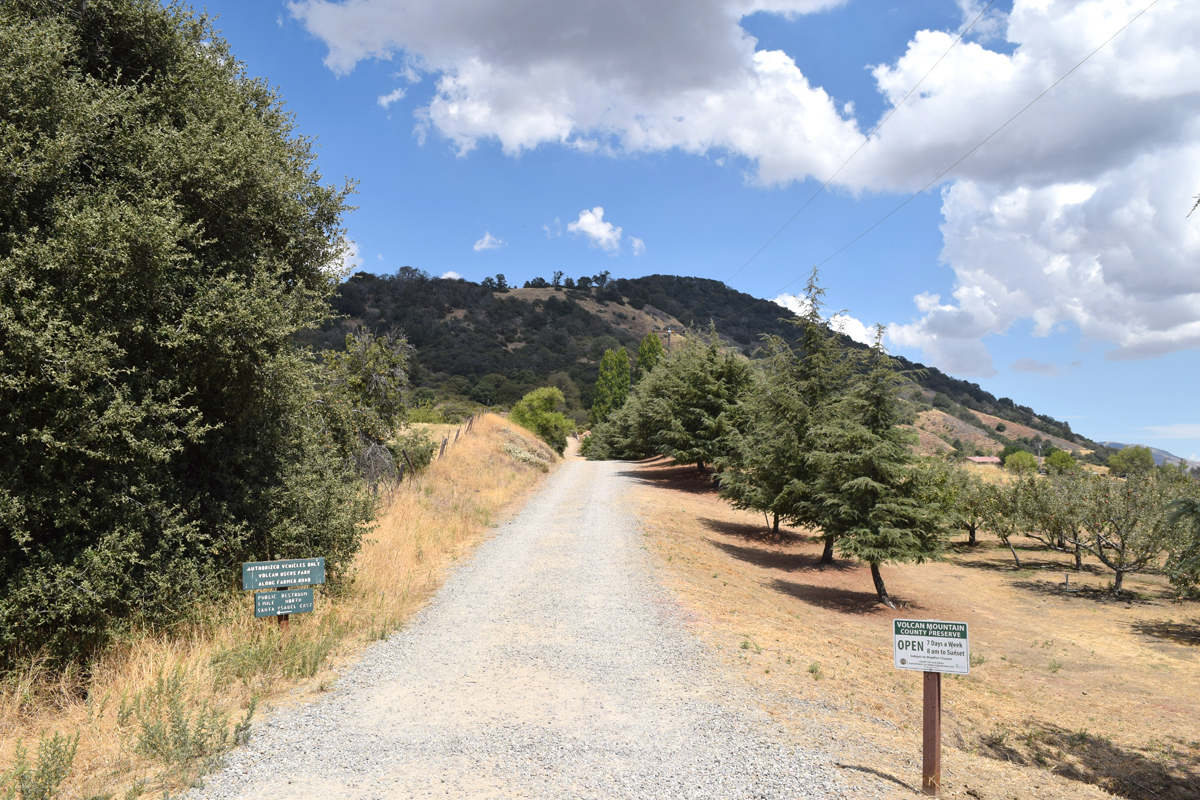 1209 Farmer Rd./Wynola Rd. • 760-765-4098 Access: Take Hwy. 78/79 into Julian to Main Street, north. Enter at Hubbell Gateway. Open year-round, 8 am-sunset spring and summer. Summit open weekends only, April through November, 9 am-5 pm. Closed after rain or snow.
Fire Road Trail: Moderate to strenuous. Length: 5 miles round trip to the summit. Description: Mixed conifer forest and grasslands. Bird's-eye views of Julian, desert and coast.
Farmer Rd./Julian Orchards Dr. • 760-765-4098
East | Farmer Staging: Take Hwy. 78/79 into Julian to Main Street. Going north, Main Street becomes Farmer Road. Go to Wynola Road and turn right, then left back onto Farmer Road. Pass Volcan Mountain Wilderness Preserve sign on right, preserve will be on the left about one mile from the Volcan sign.
East | Hwy. 79 Trailhead: Take Hwy. 78 into Santa Ysabel. Turn north onto Hwy. 79. Trailhead is 1.5 miles north of Santa Ysabel, south of the Santa Ysabel Mission.
West: Take Hwy. 78 to Santa Ysabel. Staging area is one mile west of Santa Ysabel on Hwy. 78 at Call Box 495.
Cuyamaca Rancho State Park
Hwy. 79, 5 miles north of I-8 • 760-765-3020 • Visit parks.ca.gov for more information.
Trail maps and information are available at Paso Picacho and Green Valley Falls camp kiosks, 8-4 daily.
Cuyamaca Peak: 3.5-mile hike from Paso Picacho at 5,000 feet to elevation of 6,512 feet. Views of deserts to the east, coast to the west and Lake Cuyamaca at the bottom.
Paseo Nature Trail: Easy .5-mile loop, scenic and level.
Indian Trail: Easy .75 mile one way. Well-marked trail to seasonal waterfall. Best in spring and early summer.
Green Valley Falls Trail: Approximately 4.5-mile loop.
Azalea Glen Loop Trail: Moderate 3.6 miles. Yearround stream. Native Kumeyaay grinding holes may be seen about .5 mile from trailhead.
Juaquapin Trail: Moderate 3 miles, scenic loop climbing via East Site Trail with a steep return by Dyar Spring Trail.
Conejo Spring Trail: Moderately strenuous 3.5 miles to summit. Rugged ascent over north shoulder of Cuyamaca Peak. Connects to paved road leading to summit. Descent to campground by paved fire road.
Stonewall Peak Trail: Moderately strenuous round trip of 4 miles, 900 feet gain in elevation, 360-degree view at top.
Oakzanita Peak Trail: Moderately strenuous 8-mile loop with 1,300 feet gain in elevation, and 5-mile loop with 1,200 feet gain in elevation.
William Heise County Park
4945 Heise Park Rd., Julian • 760-765-0650
Canyon Oak Trail: 1.25 miles that connects to the Desert View Trail.
Kelly Ditch Trail: 5.75 miles, great for walking or riding horses. Trail connects the park with Cuyamaca Rancho State Park and Lake Cuyamaca.
Discover More hiking in Julian & Beyond